Restoration and repair of equipment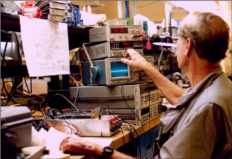 Organization Autolobaz Ltd specializes in recovering high-tech foreign-made products and offers services of professional restoration and repair of industrial electronics and mechanical equipment.
We perform a restoration and repair of products for which there are no circuit diagrams, technical and service documentation!
Most modern tools, machines, tools and means of production have electronic components. Agricultural machine, forklift, crane, car, harvester, assembly line - just a few examples of using a modern electronics.
And of course, almost all modern car and a technological vehicle has engine or management unit. And all of them has mechanical wear and tear during its work and friction of rotating elements. Finally, slots, bushings and pistons will be deformed and require restoration or repair. One of the divisions of our company specializes in the mechanical restoration of worn or damaged parts of mechanisms. For repair we can use the metal spattering, electroplating and other kind of recovery.
Today the company has a diagnostic workshop for repair of modern diesel engines trucks.
Avtolobaz Ltd company are focused on restoring the most modern nodes, units, modules, and aggregates used in modern transportation, construction and special machines, equipment and machine tools. Power system, communications, telecommunications and automative from any manufacturer can also get quality service in our company.
Our company has experts in electronics, chemicals, metalworking, telecommunications, hydrodynamics and transport. Focus on quality - it is a main feature of our company.
We will take payment only for performed work.
We will not take the money if the equipment after the restoration or repair is not working properly way.
Equipment manufacturers: Krone, Bosch, Moba, Siemens, ROmiLL, Lemken, Dinamica Generale, TeeJet Technologies, Jungheinrich AG, Serigstad, NovAtel Inc. RDS Technology Ltd., Muller-Elektronik GmbH, HORSCH Maschinen GmbH, Rostselmash, MAZ, CLAAS GmbH, John Deere, HYUNDAI, Vogele, Volvo, Hitachi, JCB, Franz Kleine и др.